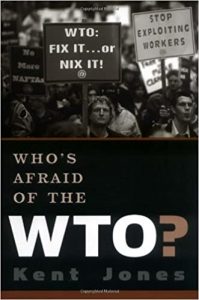 Who is Afraid of Word Trade Organization by Kent Jones
About Course
Who is Afraid of Word Trade Organization by Kent Jones
Who is afraid of the WTO, the World Trade Organization?
The list is long and varied. Many workers–and the unions that represent them–claim that WTO agreements increase import competition and threaten their jobs. Environmentalists accuse the WTO of encouraging pollution and preventing governments from defending national environmental standards. Human rights advocates block efforts to impose trade sanctions in defense of human rights. While anti-capitalist protesters regard the WTO as a tool of big business–particularly of multinational corporations–other critics charge the WTO with damaging the interests of developing countries by imposing free-market trade policies on them before they are ready. In sum, the WTO is considered exploitative, undemocratic, unbalanced, corrupt, or illegitimate.
This book is in response to the many misinformed, often exaggerated arguments leveled against the WTO. Kent Jones explains in persuasive and engaging detail the compelling reasons for the WTO's existence. And why it is a force for progress toward economic and non-economic goals worldwide. Although protests against globalization and the WTO have raised public awareness of the world trading system, they have not, Jones demonstrates, raised public understanding.
Clarifying the often-muddled terms of the debate, Jones debunks some of the most outrageous allegations against the WTO and argues that global standards for environmental protection. And human rights belong in separate agreements, not the WTO. Developing countries need more trade, not less, and even more importantly, they need a system of rules that gives them–the smaller, weaker, and more vulnerable players in world trade–the best possible chance of pursuing their trade interests among the larger and more powerful developed countries.
Timely and important, Who's Afraid of the WTO? provides an overview of the most important aspects of the world trading system. And the WTO's role in it while tackling the most popular anti-WTO arguments. While Jones does not dismiss the threat that recent political protests pose for the world trading system, he reveals the fallacies in their arguments and presents a strong case in favor of the WTO.
Visit more course:  FOREX TRADING COURSE
The same course:  Bill Williams Eduard Altmann SMB Simpler Trading Van Tharp Atlas Api Training Trading Template Sunil Mangwani Sunil Mangwani Frank Paul . Also  Market Delta Tradingacademy Simplertrading Urbanforex. Also  Candlechartscom Dan Sheridan Pipsociety  Atlas Api Training TopTradeTools Todd Mitchell Jerry Singh OpenTrader Alexandertrading Daytradingzones
Please contact email: [email protected] If you have any question.
Course Features
Lectures

0

Quizzes

0

Duration

45 hours

Skill level

All levels

Language

English

Students

91

Assessments

Yes